The World's First Ratings of Bitcoin,
Ethereum, Ripple, Dash and
100+ Cryptocurrencies
by a Financial Rating Agency
Outperforms Bitcoin. Investors buying only Weiss Ratings' top-rated coins in 2017 could have seen significantly greater gains than investors buying Bitcoin alone.
Sophisticated computer model. We review thousands of data points to evaluate each cryptocurrency's blockchain technology, adoption, security, other factors and risk-reward potential.
Independent and impartial. Unlike other ratings agencies, Weiss accepts no fees from the rated entities. Its customer is exclusively the end user.
46-year track record of accuracy in other sectors, as attested to by The Wall Street Journal, The New York Times, Barron's and the U.S. Government Accountability Office (GAO).
Dear Investor,
We are at the dawn of a cryptocurrency revolution offering enormous profit potential for investors.
The blockchain technology that makes Bitcoin, Ethereum and every other cryptocurrency possible could radically transform e-commerce, banking, communications, social networking, Big Data, the Internet of Things, even governments.
As the scope of this disruptive technology has gained more widespread recognition, cryptocurrencies have enjoyed unprecedented gains. Bitcoin has received by far the most media attention, but there are hundreds of other cryptocurrencies, many with outstanding profit potential.
In fact, investors buying only Weiss Ratings' top-rated crypto coins from January 1, 2017 through the present could have greatly outperformed investors buying Bitcoin 7.7 to 1.
And our ratings could have protected you on the downside as well. For instance, on December 17th, 2017 when Bitcoin started its 68% decline, the Weiss top-rated cryptocurrencies actually rose 6% while Bitcoin plummeted.
Using our scientific computer model, we refused to give Bitcoin a top rating while the media and internet "experts" drooled over it. Investors who bought in to the Bitcoin hype lost more than half their money.
47 Years of Independence and Accuracy
Now Applied to Cryptocurrencies
For investors seeking life-changing profits and privacy, the right cryptocurrencies could be a godsend. That's why torrents of money are gushing into cryptocurrencies from the U.S., Japan, China, South Korea and Europe.
But the cryptocurrency marketplace also has a dark side. It suffers from speculative fever, lax standards, murky operators, and periodic market crashes. It desperately needs the clarity that only robust, scientific ratings can provide.
Weiss Ratings is fearless about naming the mediocre and weak cryptocurrencies to avoid.
We are proud to be the first financial rating agency to bring a much-needed benefit to investors — to help avoid the hype, while identifying the few promising cryptocurrencies that truly merit their hard-earned cash.
Weiss Ratings, which began in 1971, is the nation's leading independent rating agency of financial institutions, assigning letter grades to about 55,000 institutions and investments, including nearly all of the nation's insurance companies, banks, credit unions, stocks, ETFs, mutual funds.
Unlike Moody's, Standard & Poor's, Fitch, and A.M. Best, Weiss Ratings never accepts compensation of any kind from the companies or entities it rates. Its revenues are derived strictly from individual investors, consumers and other end users of its ratings.
The U.S. Congress' auditing arm, the GAO, said Weiss Ratings beat our closest competition by three to one in accuracy. Esquire magazine said we're the only one who offers grades with no conflicts of interest. Forbes even called me "Mr. Independence."
How our ratings model zeros
in on the most advanced coins
with the most profit potential
Since we're the only ratings agency issuing cryptocurrency ratings, I feel we're the only ones who have cracked the code — to give you an optimal balance between life-changing profit potential AND reduced risk.
And right now, the potential for life-changing profits is exactly what the torrents of money pouring into the cryptocurrency marketplace are seeking.
Almost everyone has heard about Bitcoin due to its 1,000% rise in 2017 alone. But there are well over 1,000 cryptocurrencies that are light years ahead of Bitcoin when it comes to technology and usage potential in the future.
Our ratings model promptly and objectively identifies cryptocurrencies that have the most advanced technology, greatest profit potential, and reduced risk for investors.
Making thousands of calculations every single day, the Weiss Ratings model zeros in on the cryptocurrencies with cutting-edge technology.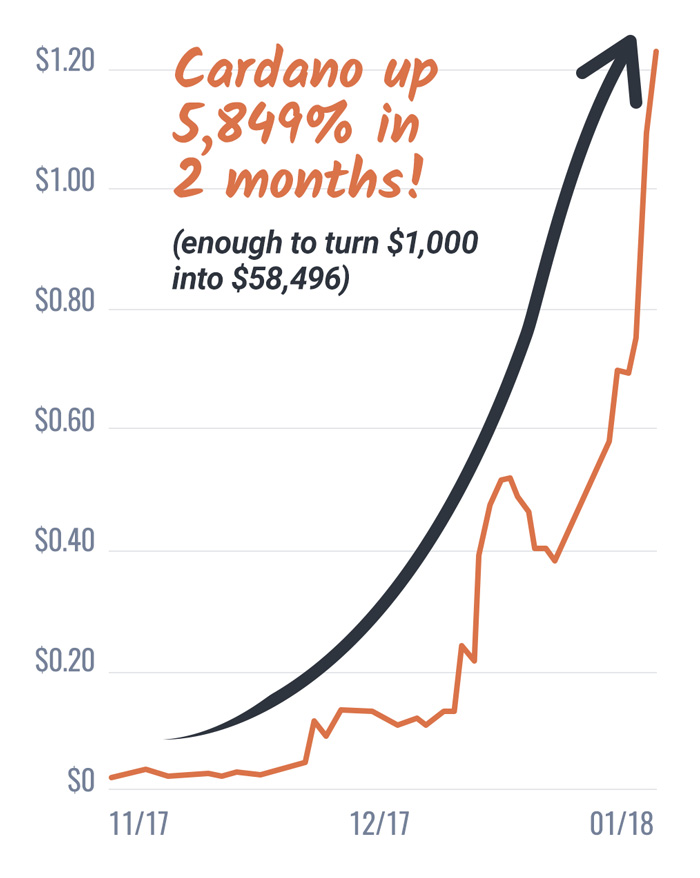 Just a few months ago, for example, there was an upstart crypto-currency by the name of Cardano, which almost no one knew about. But it has great technology and a couple of crypto-geniuses behind it.
If you had invested just $1,000 in it, you'd be sitting on $58,496 today.
If you had invested $25,000, you'd have $1,462,395.
Even if you caught just the tail end of that move, you can see how easy it would be to outperform Bitcoin by a wide margin.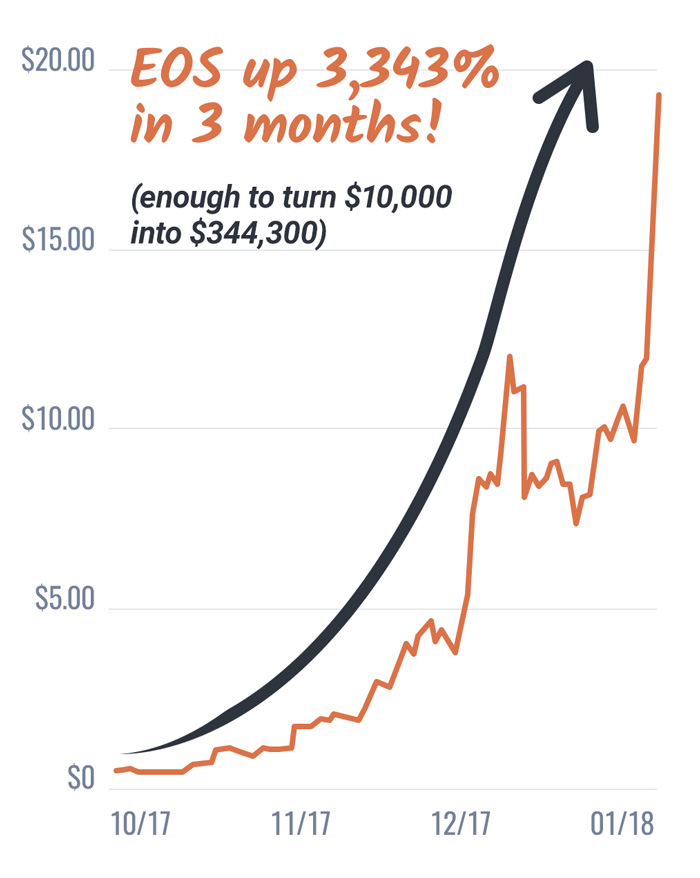 EOS, another little-known cryptocurrency was designed to remedy the shortcomings of Bitcoin, which at eight years old is a technological dinosaur.
EOS is technologically advanced with brilliant crypto developers behind it. Its price was just $0.53 in October of last year and just three months later, sold for $18.25. That's a gain of 3,343%.
If you had invested just $10,000 in EOS, you could have walked away with as much as $344,300. Not bad for three months' work.
In fact, investors owning ONLY Weiss' top-rated coins from January 2017 to the present could have turned every $10,000 invested into more than $600,000 — beating Bitcoin's spectacular advance 7.7 to 1.
And now you can get access to our latest ratings. Just click here to try Weiss Cryptocurrency Ratings at a 50% introductory discount.
Every cryptocurrency we rate
undergoes rigorous analysis
The Weiss Cryptocurrency Ratings are based on a groundbreaking model that analyzes thousands of data points on each coin's trading patterns, technology, adoption, security and more:
The Cryptocurrency Risk Index measures (a) relative and absolute price fluctuations over multiple time frames, (b) declines from peak to trough in terms of frequency and magnitude, (c) market bias, whether up or down, and other factors.
The Cryptocurrency Reward Index evaluates (a) returns compared to moving averages, (b) absolute returns compared to a benchmark, (c) smoothed returns, and other factors.
The Cryptocurrency Technology Index evaluates the level of anonymity, governance capabilities, the ability to upgrade, energy efficiency, scaling solutions, interoperability with other blockchains, plus other technological strengths or weaknesses.
The Cryptocurrency Adoption Index (formerly called the "Fundamental Index") measures transaction speed and scalability, market penetration, network security, decentralization of block production, network capacity, developer participation, public acceptance, plus other key factors.
And knowing how each cryptocurrency stacks up could prove very valuable to you in the months and years ahead.
Why some of the biggest profits in
cryptocurrencies still lie ahead
The technology that makes the newer cryptocurrencies so financially private and safe is already beginning to disrupt traditional money and all transactions based on it.
This includes, for example, credit cards. Why should a merchant pay 5% and wait a month to get paid by a bank, when he could get his money with virtually no fee and almost instantly with new high-tech cryptocurrencies?
Ditto for certified checks or wire transfers (especially international), where you're often required to do a financial striptease in front of government regulators. But you can do the same transaction using the newer cryptocurrencies, maintaining privacy, and paying much less in fees.
Plus, their technology ultimately makes cryptocurrencies safer.
When hackers broke into JP Morgan Chase, they vacuumed up sensitive account information belonging to a whopping 83 million households and business customers.
This stolen information was on sale within hours. Bad actors used it to claim your tax refunds, pay for their insurance or buy new smart phones.
By contrast, transactions made via cryptocurrencies — instead of by credit card, check, or bank transfer — are private and stay that way.
Yes, crypto exchanges have sometimes been hacked as well. But as long as you store your money on your personal wallet that you control (a very easy thing to do), those hacks will never harm you.
So you can see, cryptocurrencies and their underlying technologies have tangible, real-world applications that are becoming inherently more valuable to more people every day.
They can be used not just for money, but for almost any Web application — to replace Facebook, Google, even Amazon.
And that's why crypto-technology could prove to be so productive — or so disruptive — to just about every company in the Fortune 500.
Yet the number of people using cryptocurrencies is still tiny. So the biggest profits in cryptocurrencies are still to come.
And life-changing profits could be had if you know which cryptocurrencies are most likely to receive wide-scale adoption. That's one of the major goals of Weiss Cryptocurrency Ratings: To help you invest in the future winners and avoid the ones likely to drop by the wayside.
You can get immediate access to today's ratings on more than 100 cryptocurrencies with this special invitation.
order_button('',''); ?>
Hundreds of millions of people
are ripe for cryptocurrencies
Hundreds of millions of people in the Americas, Europe, China and India are afraid of what their governments can do to the banks and their money.
Government limits on bank withdrawals are also common throughout Latin America and Europe. Even in the United States, if you try to make a cash withdrawal of $10,000 or more, you're going to have to fill out forms that will go straight to the IRS, possibly exposing you to surveillance or an audit.
So the popular demand for privacy and immediate access to your own money has never been greater. Only cryptocurrencies offer you that protection from nosy, sometimes criminal, governments.
But today, barely 1 in 10,000 adults own cryptocurrencies. So the door is wide open for enormous growth for cryptocurrencies.
And all the average person needs to start making use of cryptocurrencies is a cell phone that connects to the internet.
Talk about a gigantic new market! And, as usual, the biggest profits are almost always made by investors who get in at an early stage.
Our Weiss Cryptocurrency Ratings objectively rate dozens of cryptocurrencies on technology, fundamentals and risk/reward. That way, you can own only the top-rated coins, and avoid the low-rated pitfalls.
And the timing could not be better to get involved.
The total market cap of the top 100 cryptocurrencies is less than a half trillion dollars.
Meanwhile, the global money supply for government currencies is $90.4 trillion — 180 times as much.
We expect cryptocurrencies to cannibalize a good portion of that. And that's why the value of the best cryptocurrencies is likely to explode up.
order_button('',''); ?>
A standing ovation for Weiss Ratings:
"You saved me and my father a lot of money back in 1999 and in 2008 by warning us of the cesspool banks and companies that were ready to implode…it's nice to see you are looking into crypto now…look forward to following your research and grades"
— Shawn
"Your transparent and unbiased rating will bring light to the darkness and murky crypto world … I pray to God for more strength to your rating agency."
— Shaji M.
"Thanks to [your] sound financial advice and some fortunate investment choices, my original $352,000 in my 401K is now worth $2,171,000."
— John D.
"Integrity and dedication to his subscribers is outstanding … He calls it right, and early."
— Tom A.
"Weiss was the first to see the dangers and say so unambiguously."
— New York Times
"I based my decision to buy … on your ratings and earned a 106% gain in less than 30 days!"
— RC
"Weiss's record is so good compared with that of his competitors ... consumers need look no further."
— WorthMagazine
"The only one who rates with no conflicts of interest."
— EsquireMagazine
"I welcome that you are now part of the industry bringing along your analytical mind and fearlessness. Welcome and bravo! It takes a great mind to do what you did in the industry albeit controversial."
— Udigwe C.
"To all the doubters on here who feel they've missed out … blockchain technology is not going away. It's going to change the way industry functions by making everything both more transparent and at the same time more decentralized."
— Allan
I am proud to bring our 47-year history of accuracy, independence and service to investors to the exciting cryptocurrency market.
I invite you to get today's ratings as well as ongoing weekly updates with this special offer to become a member of Weiss Cryptocurrency Ratings.
order_button('',''); ?>
Weiss Cryptocurrency Ratings
Membership Benefits
As a subscriber to the Weiss Cryptocurrency Ratings, you get:
Immediate access to all our cryptocurrency ratings: As soon as you join, you will receive immediate access to the entire list of over 100 coins.
The first to receive coverage on newer coins as we expand beyond the 74 currently rated. In the weeks and months ahead, we will be adding coverage for scores of cryptocurrency ratings — to help steer you away from the worst and select the best. You will be among the first to receive them as soon as they are released.
Weekly updates: Due to the unusual speed of change in the cryptocurrency markets, our ratings change more frequently than in virtually any other sector. To help reduce your investment risk and maximize your profit potential, you will receive weekly updates. Every Thursday, at 4:00 PM Eastern Time, we will send you an updated list.
Weekly commentary: At least once weekly, you will receive our commentary regarding critical upgrades, downgrades and trends.
Flash alerts as needed: When there's hot news about our ratings or in the crypto marketplace, we will send you a flash alert to help make sure you don't miss a beat.
Weiss Crypto Alert: Every Monday, Wednesday and Friday, you get our e-letter containing exclusive commentary and analysis of all things crypto. Our crypto experts alert you to up-and-coming opportunities, warn you about scams and misinformation, and provide our unbiased responses to the breaking crypto news of the day.
The regular cost of a one-year subscription to Weiss Cryptocurrency Ratings is $936. However, as a visitor to our website, you are entitled to a 50% discount, bringing your cost down to $468 per year.
That's the equivalent of $39 per month, or $9 per week.
To preserve your money-saving discount, at the end of your subscription, you will have the right to automatically renew it at the same low rate. You will have our unbiased ratings at your side to help you navigate this sector for the entirety of your membership.
To begin your Weiss Cryptocurrency Ratings subscription and get immediate access to our complete ratings, simply use the form below to begin. You pay just $468 for 52 weekly updates. All sales are final.
order_button('',''); ?>